came for the flowers, stayed for the florist...
Not Your Average Blooms
Each design is multifaceted, intentional, and a little rebellious. We're unapologetic, funky, and love the finer things in life and we share that through our work!
Shop now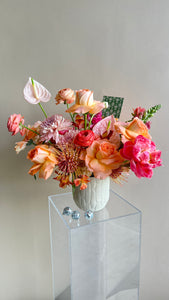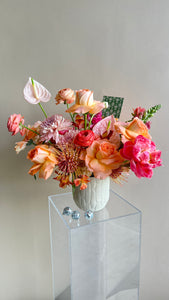 Every Day Florals
Talented. Brilliant. Totally Unique. Custom floral arrangements for any occasion! Deliveries available throughout Los Angeles and shipping available on limited items.
Workshops & Events
New dates announced! Join us August 26th or August 27th in studio for our summer floral workshop. Click here to reserve your spot!
Wedding & Event Florals
We love flowering your intimate dinners, product launches, corporate events, and weddings! To inquire about your upcoming event, please click here.
Daily Florals & Gifts
Featured collection
Select between wrapped bouquets or vase arrangements for local delivery or studio pickup. Select your date at checkout!
If you have any questions or would like to place a custom order, please email hello@domoniquerose.com
Shop now
"Domonique is my #1 choice for florals. I have gotten florals on 2 occasions from her and she knocks it out of the park every single time. Her ability to challenge her creativity and give you something more unique and stunning than the last is an inspiration. Her designs are unlike anything that you will receive from other floral designers in Los Angeles, not to mention that she is so sweet and accommodating if you want something specific. I can guarantee you will not be disappointed!"
"I had the most amazing experience ever here since I walked in. I was greeted so kindly and was very well taken care of. Great flowers at great prices. I appreciate you guys."
Flower Care
10 Tips on How to Care for Your Flowers
So you received a beautiful arrangement! Or maybe you just grabbed some cute flowers from the market. Now what?!  Caring for fresh flowers can help extend their lifespan and keep them looking vibr...
Read more